Thank you to all our courageous Bosses for rising to the challenge. You are all truly inspiring.
A week ago 30 outstanding individuals stood on the edge of the Sky Tower ready to go for Drop Your Boss 2018. All stepped out of their comfort zones in support of the young people of Aotearoa. The day couldn't have been better and it was wonderful to watch them take the big step to 'Drop' from the Sky Tower.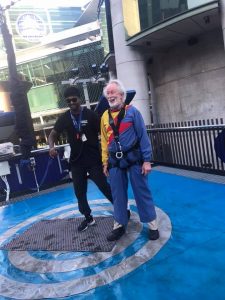 Our New Zealand youth face many challenges in this ever-changing world – so we ask bosses across New Zealand to accept their own challenge, go outside their comfort zone and take part in Drop Your Boss!
All children and young people should have the chance to shine but they don't. We can't change nature, we can't directly change home-life. However, we can equip the young people who need it most with tools to build resilience and self-belief to overcome anything they face and change the next generation. Drop Your Boss is an annual fundraising event for the Graeme Dingle Foundation. On Wednesday 9 May 2018, we 'Dropped' a number of 'Bosses' from the Sky Tower!
We asked 'Bosses' to put themselves in the shoes of our young people and to step out of their own comfort zone and do something very challenging. We believe plummeting 192 meters at around 85 km/hr goes some way to meet the criteria. Our 'Droppers' stepped off the Sky Tower to help raise funds for the Graeme Dingle Foundation's programmes – Kiwi Can, Stars, Career Navigator, Project K and MYND. 
Our programmes reach over 25,000 young people across New Zealand every year. Helping children develop self-belief is the Foundation's contribution to society. At the Graeme Dingle Foundation we want New Zealand to be a fairer and better place for everyone. We want every child to know: What you have inside is greater than any obstacle.  
You can support our brave 'Bosses' here