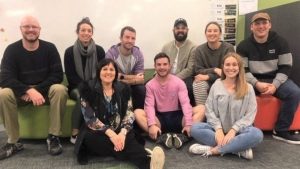 How to teach kids they're awesome!
Karla
Guerin reckons she has got the best job in the world.
"Everything about it is positive," says the Canterbury Kiwi Can co-ordinator of the programme she believes is life-changing for many children.
"We are teaching kids that what they have inside them is awesome, and greater than any obstacle they might face."
Kiwi Can, the first step in the Graeme Dingle Foundation values and life-skills programme, is built around four pillars: Respect, integrity, resilience and positive relationships.
Classes are fast-paced and fun, with serious messages imparted through game-based and co-operative activities. The programme includes a community project which can be anything from a supermarket shop for Salvation Army food parcels to a beach clean-up.
A trained teacher, Guerin spent 16 years in the classroom before leaving the profession to work in the community support field.
"I had lost my passion for teaching but not for the kids. When this job came up two years ago it was perfect," says Guerin, who liaises with the 16 participating schools around Canterbury and checks in on the Kiwi Can classes.
She finds her teaching experience invaluable when working with the leaders who run the programmes. "My challenge is to make them the best leaders they can be."
Their only occupational hazard is being mobbed by younger children when they are spotted in their distinctive green-and-black uniforms. "The kids just love the Kiwi Can leaders who they see as safe, fun and kind," says Guerin.
Schools report fewer behavioural issues, more co-operative play, less bullying.
Guerin loves hearing the Kiwi can-do stories: The withdrawn child who completed the Weetbix Triathlon, and with smile on her face the whole way, "because Kiwi Can says I can".
The disabled boy who insisted on staying behind to pick up rubbish after the school disco, telling his mother that "Kiwi Can says we have to look after our environment".
The two boys who, after a lesson about owning up rather than letting guilt fester inside you, went to the principal and admitted vandalising school property.
Guerin can empathise with a lot of the children's situations as her own life wasn't always plain sailing.
"I understand what many of these children face because my past was very challenging so I have loads of empathy for our Tamariki." says Guerin, who also runs Toolbox parenting courses.
"My philosophy is to love the one in front of you. If you do, it's got to make a difference."