Our Founders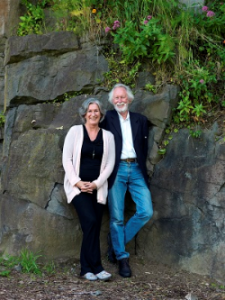 Over twenty five years ago, Sir Graeme Dingle and Jo-anne Wilkinson, Lady Dingle had a vision to improve New Zealand's negative youth statistics.
Together they continue to be relentless campaigners, supporters, fundraisers and champions of the charity's quest to help young New Zealanders achieve their potential.
Sir Graeme Dingle KNZM, MBE
Sir Graeme has dedicated over 45 years of his life to improving outcomes for New Zealand's young people. Alongside his partner and co-founder Jo-anne Wilkinson, he pledged to dedicate his life to positively impact on New Zealand's negative youth statistics. An humanitarian and philanthropist with a passion for mountaineering and adventure sport, Sir Graeme is one of the world's leading outdoor adventurers.
With more than 50 years' experience in outdoor activities, he has achieved more than 200 mountaineering and adventuring 'firsts' throughout the world including the first ascent of all classic European north faces in one season; an incredible 1100 km sea, mountain and river traverse from the South Island to Auckland with six convicted violent offenders; and a two-stage epic 28,000 kilometre circuit of the Arctic. He also has several Antarctic expeditions to his credit which explored new territory and ascended several unclimbed mountains.
Sir Graeme combines his love of the outdoors and adventure with a strong commitment to social responsibility and change, and has been the impetus for many community campaigns and directives. He founded the Outdoor Pursuit Centre of New Zealand (OPC) in 1972 – now the Hillary Outdoors Education centres.
Sir Graeme's many accolades include an MBE for services to outdoor pursuits, an ONZM in 2005 for his services to youth, the "Award of New Zealand" for services to Sport & Recreation and a Deloitte Top 200 Visionary Leader Award.
Sir Graeme has published 11 books, his autobiography Dingle: Discovering the Sense of Adventure" winning the Montana Book Award in 2006.
Sir Graeme describes himself as driven, determined, passionate, energetic and youthful, and credits much of the Foundations success to Jo-anne saying, "We have worked on the foundation together since its inception. Her ability to think strategically, solve problems, her amazing memory and legal training have been incredibly important. She has helped me navigate the way. We have encouraged each other and boosted each other up throughout our relationship. We talk everything through, we never lose sight of the work we want to achieve, and we problem solve to find ways to make it happen."
Jo-anne Wilkinson MNZM, LLB
Jo-anne has dedicated a substantial part of her life to the development of young Kiwis. This was recognised in 2011 when she was awarded the Member of the Order of New Zealand for services to young people. In 2014 she was the joint winner of the Women of Influence award for Social Enterprise.
She worked in various legal firms before committing to a law degree at Victoria University at the age of 26. After achieving her degree Jo-anne gained further practical experience working in two legal practices and at the Institute of Professional Legal Studies as a tutor in Commercial and Property Law, Negotiation, Interview Skills, Fact Analysis, Estate and Trust Law.
She worked tirelessly to research and develop the materials needed for the initial Project K programme. The rapid expansion of the Graeme Dingle Foundation's (formerly FYD) stable of programmes is due to her skills in strategic thinking, governance and management. She also managed and co-authored the development of the Foundation's Stars Programme for secondary schools.
Jo-anne shares Sir Graeme's love of the outdoors and adventure. She has sea kayaked in Vanuatu and around the New Zealand coast (including a 1200 km sea kayak and mountain traverse), has made several Arctic journeys (including a 4000 km traverse of Alaska and the Bering Sea by small boat) and she has canoed down the Yukon River. She has also completed a high altitude circumnavigation of Cordillera Huayhuash Peru and ascended to 5700 metres in the Western Himalaya.
Her proudest moment, she says, was setting up Project K, the catalyst for a range of programmes now run by the Graeme Dingle Foundation.  "It's all built in to this sense of accomplishment for having contributed to the young people of New Zealand. Graeme and I each bring something different to the Foundation, in attitudes, skills and talents. But we both love seeing the kids changing – they go from thinking they're not capable of a huge amount to realising the world's their oyster."
Our History
1994: Jo-anne Wilkinson and Graeme Dingle meet with Kiwi icons on One Tree Hill – in the presence of about 100 people, including Sir Edmund Hillary, Sir Paul Reeves, Wayne Walden, Pat Booth, Murray Deaker and Arthur Lydiard.
Graeme and Jo-anne announce their intention to establish an organisation designed to impact positively on negative youth statistics in New Zealand
1994 – 1995: Consulting with Communities – Jo-anne and Graeme kayak and tramp 1200 kilometres from Nelson to Auckland, consulting with people and communities.
Project K Trust established May 1995
1995 – 1996: Research and Development – Graeme and Jo-anne do desk-top research and trial formulae for evaluation of the programme
1996 – 1997: First Project K programmes trial in four diverse Auckland sites. Research and Evaluation team established
1999: First Community Partner established in Auckland (North Shore)
2000: Stars programme established and trialled in a South Auckland school. This becomes part of the Kaikohe Coalition – a coalition of HIPPY, Kiwi Can, Stars and Parenting  with Confidence working together in Kaikohe. This initiative led to FYD's Community Development Strategy (CDS) which is now being established in a number of          communities throughout New Zealand.
The endowment fund, called the Graeme Dingle Foundation (GDF) is established
Programmes are established in the Waikato
2001: Hutt Valley – introduces programmes to the region
2002: Canterbury – introduces programmes to the region
2003: Foundation for Youth Development is established as an entity
2003: Hawke's Bay – introduces programmes to the region
2004: Bay of Plenty – introduces programmes to the region
2006: Kiwi Can programmes in 13 communities are incorporated under the FYD umbrella
Southland – introduces programmes to the region
2008: MYND programme is incorporated under the FYD umbrella
2011: Marlborough – FYD introduces programmes to the region
2012: MYND Sibling programme trialled
Five Auckland trusts merged into one
2013: Career Navigator is launched
2015: We celebrate our 20th anniversary
2016: FYD becomes the Graeme Dingle Foundation
2017: Sir Graeme Dingle awarded a KNZM in the Queen's Birthday honours
Rotorua – introduces Kiwi Can to the region
2018: Kiwi Can online piloted
MYND Sibling renamed to Kiwi Tahi
Named Charity of Choice for New Zealand Rugby
2019: Over 270,000 kids reached since inception
2020: We celebrate 25 years of empowering Kiwi kids throughout Aotearoa
Download Our History here.