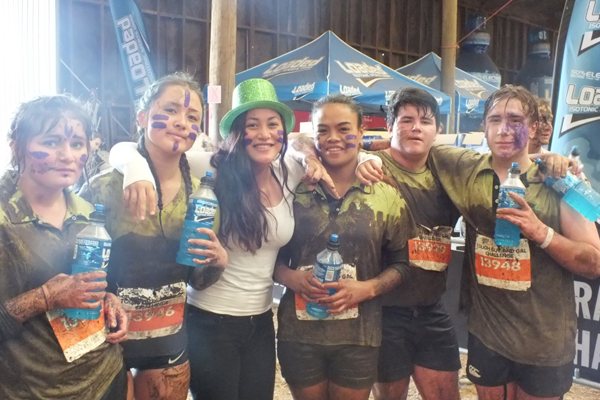 Help rangatahi like Mila by becoming a youth mentor today
"12 months of Mentorship is what sealed my fate. Being invited into a normal family home, to decorate a Christmas tree, to bake cookies. My mentor helped to get my first proper job, and a driver's license, she helped me to understand that I am the only person who is in control of my path and I can choose whether it's a path of greatness or a path of failure. Greatness it is!"
Read Mila's Story
Looking for a way to give back to your local community?
The Graeme Dingle Foundation are looking for people who want to support the next generation by mentoring a young person.
What does it take?
It will take your commitment over a period of 6 – 12 months depending on the programme where you will mentor a young person for this duration. 
Find the best fit for you!
Project K – Mentoring in our School Project K Programmes extends over 12 months, you'll meet with your student fortnightly for 2 hours at a time and place that suits you both and catch up weekly by phone or email. Our Community Scholarship programme extends over 7 months, you'll meet with your student weekly.
He Ara Ākonga – Mentoring within He Ara Ākonga extends over approximately 6 months and includes participating in workshops with a group of students and other mentors every 2 to 4 weeks. In the weeks between you will follow up online to see how the students are tracking.
Career Navigator – Our group mentoring programme, where you mentor 3-5 students in the classroom. This is in school hours, where you offer guidance and support in the career space. We also are looking for guest speakers to share their career journey.
Training
Fun Hangouts
Stay in contact
Training
No prior experience required, we provide all the info you'll need to be an awesome mentor.
Fun Hangouts
With a young person, a couple hours every week or fortnight depending on programme.
Stay in contact
Via social media, phone or email between hangouts.
The process is simple…
Read the information pack below, fill out the mentor registration form and we will be in touch. If you want to get ahead of the game, download and fill out the editable forms below. 
We will have an interview to get to know you
The interview is to get to know you so just be yourself. We are interested in:
What motivates you to become a mentor.
The gifts you can bring to a young person through mentoring.
How you might respond to the different challenges that may arise throughout a mentoring relationship.
There will be a couple of forms to fill out
You can download these editable forms ahead of time below.
Once we have verified both forms we will be in touch with your referee.