Graeme Dingle Foundation Western Bay of Plenty was founded in 2004 and currently runs the Kiwi Can, Stars, Career Navigator and Project K programmes, helping over 3,800 local young people every year.
Staff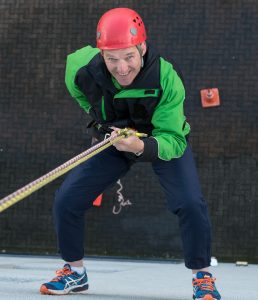 Dan Allen-Gordon – Regional Manager
Dan founded the Graeme Dingle Foundation Bay of Plenty Trust in 2004.  He comes from a background of sales, management and youth work and has been in the industry since the 1990's.
Dan is passionate about Graeme Dingle Foundation and the programmes we deliver in the Bay of Plenty.  He believes we give our children and youth a positive start in life through our programmes.
Email: dan.allen-gordon@dinglefoundation.org.nz  Phone: 021 992 613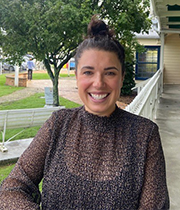 Charlotte Brown – Business Development Manager
Charlotte (or Charlie!) joined the Graeme Dingle Foundation in October 2021. She has a background in Sales and Advertising and is happy to be using her skills to help make a difference to the lives of tamariki and rangatahi in the region. Charlotte passionately believes that every child should have the opportunity to thrive and be their best and loves being part of the Graeme Dingle Foundation whose programmes work to achieve this. If you would like to discuss how you can help us to achieve our vision, please contact Charlotte – she would love to chat!
Email: charlotte.brown@dinglefoundation.org.nz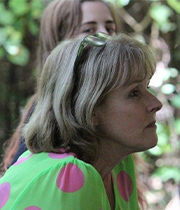 Jan Buist – Kiwi Can Coordinator
Jan Buist joined the Graeme Dingle Foundation in 2016. She brings a diverse background in Teaching, University Lecturing, Corporate Training, and Police Training to her role. With a Master's Degree in Special Education; Jan uses her skills in working with all Learners, and People Management, to Co-ordinate the Kiwi Can Programme in the Western Bay of Plenty. She truly believes in the power of the programme to support positive Mental Health and Wellbeing in Tamariki, and has observed some powerful development in individuals; as a result of engaging with Kiwi Can. Jan loves spending time in the outdoors with her Bull Mastiff Nala; and with her precious Grandchildren.
Email: jan.buist@dinglefoundation.org.nz
Jade Raumati – Stars and Project K Coordinator 
Jade has been with the Graeme Dingle Foundation WBOP since 2019, starting out as a Kiwi Can Leader before assuming the role of Programme Coordinator for our Stars and Project K programmes at Ōtūmoetai College in 2020.
With education and experience in youth work, social work and business management, Jade's heart lies in the mahi we do with our rangatahi.
Email: jade.raumati@dinglefoundation.org.nz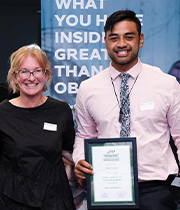 Peter Tuhura – Career Navigator and Project K Coordinator 
Peter has been with the Graeme Dingle Foundation WBOP since 2020 assuming the role of programme Coordinator for our Project K and Career Navigator programmes at Katikati College. Peter has come from a Sport and Recreation background with a deep connection to the basketball community here in the bay. He has a passion to be a positive role model for youth and believes in our programmes to effect positive change for all young people in Aotearoa.
Email: pitiera.tuhura@dinglefoundation.org.nz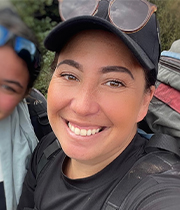 Leah Nesbit – Project K and Career Navigator Coordinator
Leah joined the Graeme Dingle Foundation in 2021. She is passionate about supporting our Rangatahi, with more than 5 years' experience working with youth she is super motivated to see them reach their full potential. Where ever possible you'll see her trying to inspire the youth to be creative, finding creative projects for our students to be involved in or being the paparazzi photographer at activities. Leah loves the outdoors and going on adventures to new places or to try new things. Always excited to encourage our young people to get outdoors and push their limits. Leah loves hiking and camping and will find any excuse to get out of work in the office to escape on camp with our high school students.
Email: leah.nesbit@dinglefoundation.org.nz
Georgia Edmiston – Regional Administrator
Georgia joined the Graeme Dingle Foundation WBOP at the start of 2022. Georgia has an education in sociology and social policy and is here to support the Graeme Dingle Foundation team and the programs they deliver in the Western Bay of Plenty that make positive changes to the lives of tamariki and rangatahi.
She believes it's a great opportunity to work with an awesome organisation that do so much to help the young people in our community be the best that they can be.
Kiwi Can Leaders
Tanati Bidois
Sam Doran
Harmony Cassidy
Emoana Consedine
Matthew Ellis
Atutahi Henare
Kristy Lagarto
Jasmine Riley
Gemma Tidswell
Hayden Wilkinson
Trustees
Fran Stubbins (Chair)
Christine Ralph
Matthew Billett
Warwick de Vere
Dianne Lees
Debbie Gee
Wayne Shadbolt
Scott Campbell