---
Future of Work Conference 2019 – huge success
The Future of Work Conference 2019 was an outstanding event for Year 12 and 13 students from four Marlborough secondary schools. The conference was an amazing collaboration between the Graeme Dingle Foundation Marlborough and the Marlborough District Council. So good in fact, I felt compelled to share a few of the insights I gained from each of the speakers…because they were so fascinating, diverse and inspiring!
Cassa Grant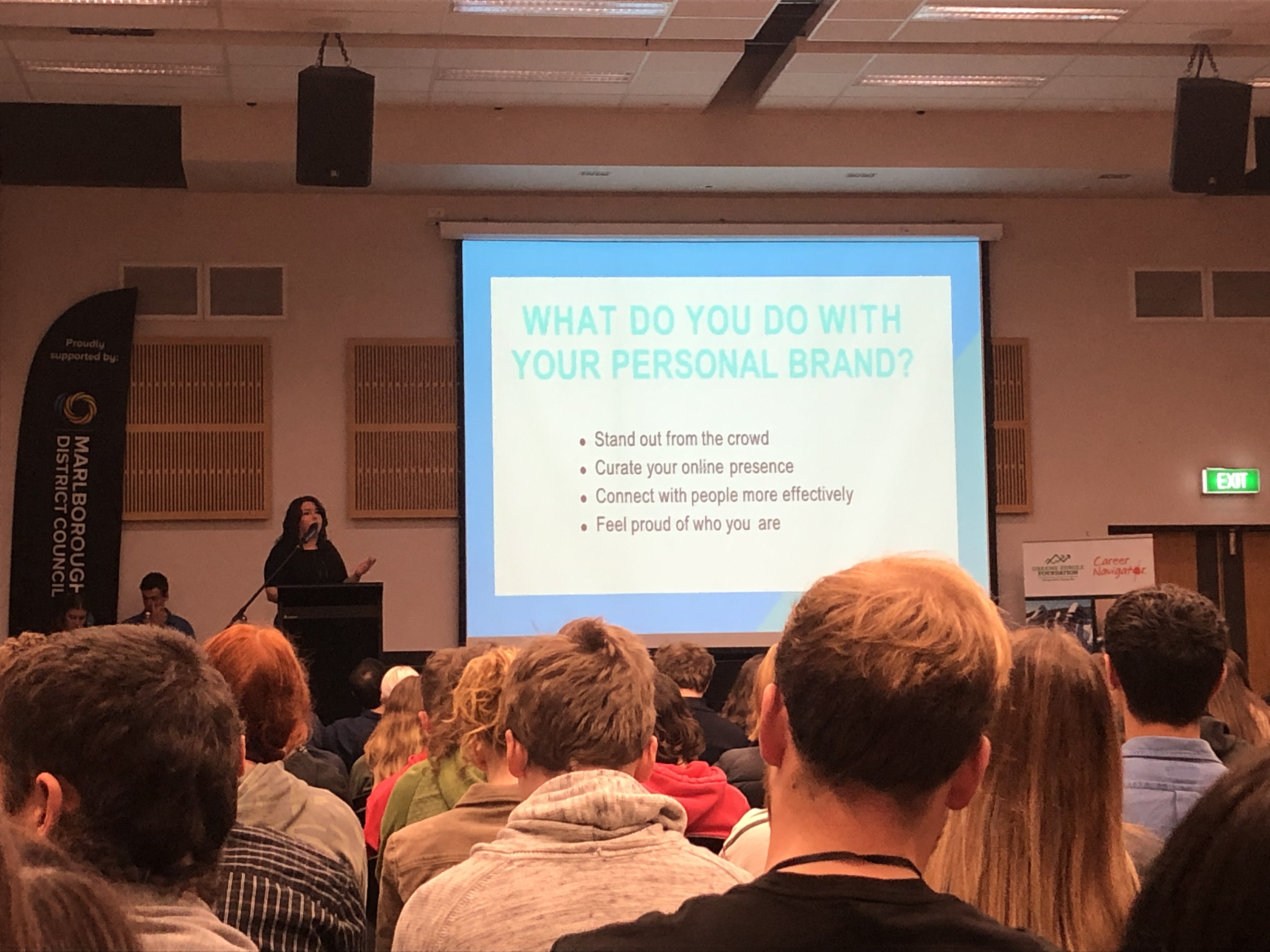 Based in Nelson but (as her past attests) I bet she would probably work anywhere! Ask her what country or continent she hasn't worked in. Her North American extreme-rural origins probably make New Zealand feel busy, and Antarctica will have prepared her nicely for the winters.
Cassa talked to the audience at the Marlborough Future of Work Conference about branding: Brands tell a story. Your personal brand conveys important messaging. It portrays a picture of you, and what's important to you. What do prominent logos evoke in your mind when you think of them? Google, Air NZ, Coca-Cola, All Blacks, Levi's. A coat of arms represents a combination of key messages about a family, country, or organisation. "What's your personal coat of arms?"
She totally enthralled the audience with her explanation of branding and storytelling. I love her mission: "Translating Robot to Human".
Scott Cardwell 
A successful EdTech innovator, Scott is the co-founder and CEO of ImmerseMe, a business with a product that immerses language learners in contextually-relevant foreign environments with the use of Virtual Reality to aid their learning.
At the Blenheim Future of Work conference, Scott inspired and intrigued the youth audience with photographs and tales from his filming adventures around the globe. One photo captured the meeting he had with Richard Branson and the moment that Sir Richard committed to featuring in a future immersion video. Scott plans to follow him up on that commitment one day. Scott is clearly a driven and focussed young Blenheim man with a mission: to give people the skills to communicate, connect and collaborate on a global scale. He's living proof that if you conceive an idea and believe you can make it happen, you will. It was no surprise to see a small group of fans asking him for a group photo at the end of the event!
One student's feedback succinctly read "Scott from Immerse – perfect".
Angus Pauley 
Chief Storyteller at Startup Dunedin, Angus is helping to turn Dunedin into one of the most entrepreneurial cities in the world. With his engaging and passionate style, and his Psychology and Philosophy degree, I reckon he's well-equipped to achieve that goal.
A Blenheim boy not so long ago, Angus was back home at the Future of Work Conference to share a view that career paths are no longer linear. He used his own journey as a good example of the new, non-traditional pathways. I loved how he headed up his presentation with a bullet that read "I don't know everything and I'm not a 'Futurist' ". When Angus asked a point-validating 'Hands-up who…?' question of the audience, a solitary (adult) hand went up towards the back. Angus's response? "Thanks Mum".
His innovative morning workshop provided a real opportunity for students to tap into their entrepreneurial spirit and prep for a dragon's den pitch in just minutes. We quickly found out how creative and seriously fast Blenheim youth are at thinking on their feet. Bravo Graeme Dingle Foundation and Marlborough District Council for bringing Angus home to speak to those following closely behind him!
Maegen Blom
Marketing Innovator at Mills Bay Mussels and all-round inspiration, Maegen has already packed into the last couple of years what most professionals would be proud of achieving in a decade!
Before heading to Victoria University (that's the one in Wellington, NZ!) to study, she led the innovative transformation of her family's Havelock-based mussel business. With a goal of making mussels more accessible, Maegen researched, designed and executed a complete re-branding of the business, which included designing and project managing a shop-refit that now invites visitors into their kitchen to learn more about how to prepare, cook and enjoy mussels. Who would have thought that a tale anchored around mussels would engage a diverse group of 16-18-year olds, keeping them on the edge of their seats, inspiring them about their future, and challenging them to get involved? That's what Maegen did at the Blenheim Future of Work Conference.
Fantastic to bring Maegen back to the region to share her motivational message with a captivated audience! Maegen's advice to fellow young Marlburians was concise, clear and unequivocal: "Get Amongst It"
Indigo Greenlaw 
Director and Co-founder of The Paper Rain Project, Indigo has created an edgy, artistic concept that blends design, art and socially-responsible practices to be something truly unique.
Originally from the remote Scotland isles, Indigo has made New Zealand home, and created a principled social enterprise to be admired. Sourcing sustainable materials ethically through fair trade means, recycling old materials, ensuring at least living wages for staff, and giving a cut of 'Cause Product' sales back to causes, Paper Rain recognises that production lines can have a positive or negative impact on society. The innovation doesn't stop there. They welcome collaboration with local artists, have pop-up shops in Auckland and Wellington, and are HQed in their Picton 'Summer Shop'.
Great to hear Indigo to share her inspiring Paper Rain story, and showing it's possible to create good art for good causes while embracing the circular economy. In the photo above, Indigo explains the dynamics of a social enterprise – described by Louise Aitken as an organisation that has "the head of a business and the heart of a charity".
Rachel Rodger + Lucy MacLean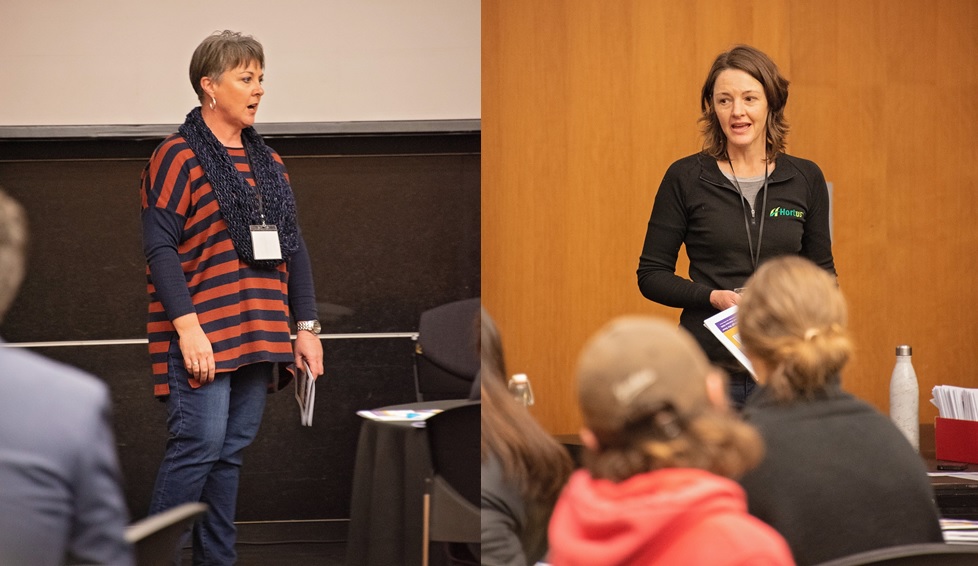 Lucy MacLean and Rachel Rodger conducted a session titled "Getting A Foot Through The Door", which was an interactive workshop on resumes, cover letters and interview skills. With such diverse and seasonally-fluctuating needs from the viticulture, horticulture and agriculture industries, there may have been no-one more qualified than Lucy and Rachel to facilitate a session of this nature.
Questions from the group indicate how foreign the job application process is for our youth, yet as experienced professionals we take it so much for granted. Two examples of this were the questions: "What is the difference between a cover letter and a resume?" and "I've been advised to ask 'Is there any reason I won't get offered the job?' at the end of an interview, is that good advice?".
One important thing I learnt was that if I am ever applying for a vacancy Lucy advertises, I will spell-check the application until it's perfect. It's rumoured she bins applications with spelling mistakes! 😊 A valuable and insightful session with two local experts in human resources.
Mark Watson
Mark Watson is the Operations Manager at Blenheim's own construction success story, Robinson Construction Limited. Mark is an experienced and engaging mentor to Marlborough youth. Mark's message to Blenheim's Future of Work Conference audience was that the one thing you want to avoid having in life is regrets. Making good decisions and rolling with the outcome is key, not looking back.
He also emphasised the importance of the attitude you turn up to work with, and the value of shadowing others in the workplace to discover what you're truly good at and enjoy. While imploring the students to consider a variety of the potential pathways into the work force, he reassured them that new starts in all industries are highly valued, after all, "we need your enthusiasm, and you need our experience". It's a mutually-benefiting arrangement that is sometimes not understood by both the new and the experienced – but put so succinctly and eloquently it resonated around the hall.
Bravo Graeme Dingle Foundation and Marlborough District Council for providing the stage for such a strong, local role-model to connect with and inspire the region's high school seniors in such a meaningful way.
Jaimee Whitehead  + Katie Bruce
Rarangi Vineyard Manager | Constellation Brands  – and – Cadet | Constellation Brands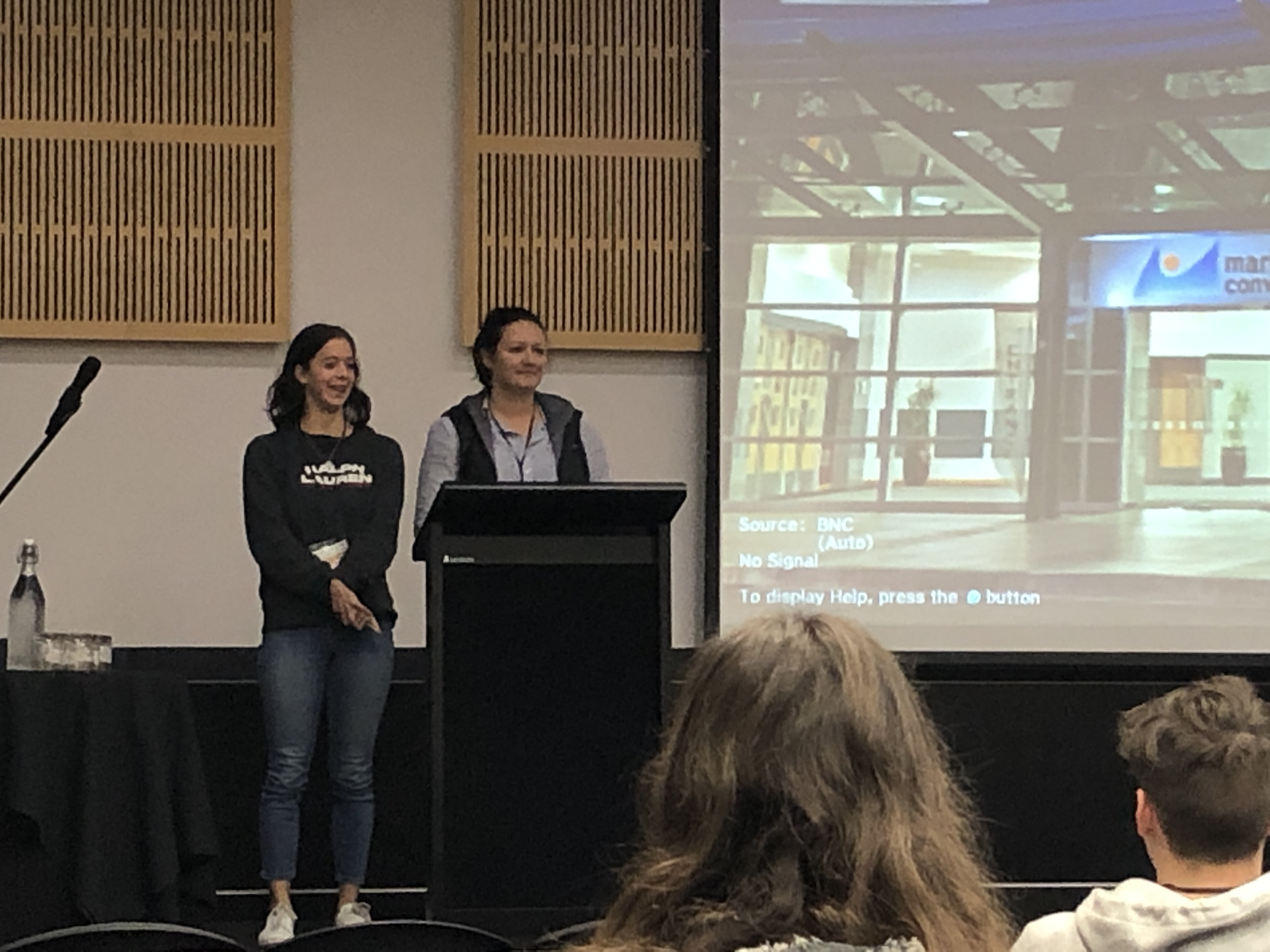 Jaimee Whitehead and Katie Bruce  – both from Constellation Brands, presented an interview-styled discussion on the life of a new starter in the viticulture industry.
Jaimee holds a Bachelor of Viticulture in Wine Science from the Eastern Institute of Technology, and was runner-up in the 2018 'Marlborough Young Viticulturist of the Year' award. Who better, then, to couple with a cadet like Katie, who was the first female graduate of the inaugural class New Zealand School of Winegrowing last year.
They clearly have a great working relationship, as their on-stage interchanges kept the audience engaged in stories from the grapevines and cellar. It was a reassuring display of a supportive and healthy senior/junior relationship in action, for those entering the workforce. Such a great role-modelling pair to share their workplace experiences.
Mark Preece + Andrew Stoneham + Ally Perkins
Business Development Manager – and Dive Team Leader  – and  Fish Health Team | New Zealand King Salmon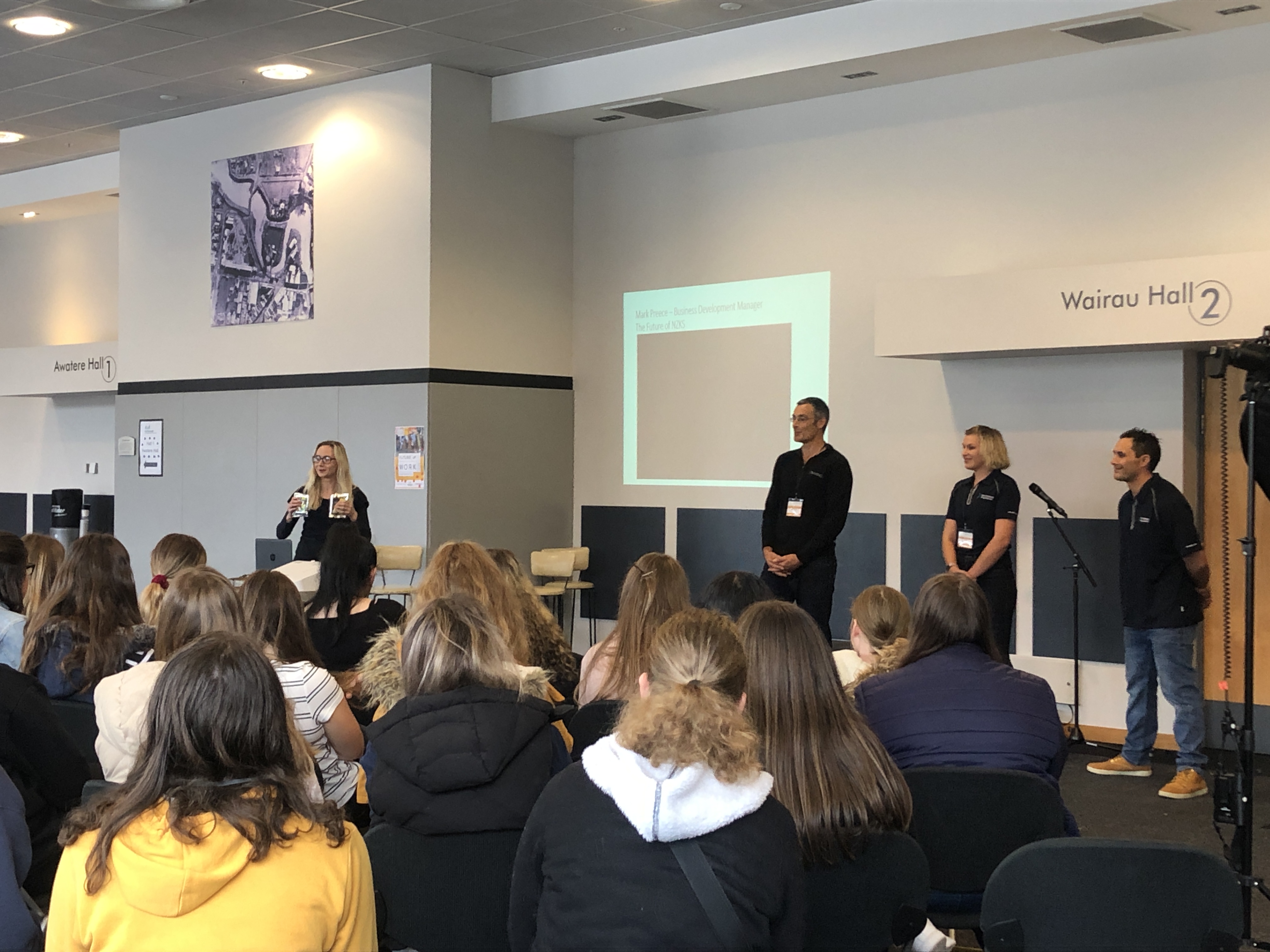 The team from New Zealand King Salmon including Mark Preece (Business Development Manager), Andrew Stoneham (Dive Team Leader) and Ally Perkin (Fish Health Team) talked to the Year 12 and 13 students about careers in aquaculture . They each shared their interesting work and career stories.
Andrew's story about the $15,000 dry-suit dive helmet was a great lure to their lunch-time trade hall table. His passion for work was clear when he observed he loves diving and he gets paid to do it!
Mark's story began on Rangihaute (Pitt Island, Chathams), so his commitment to conservation and the ocean has obvious roots.
Ally's goals are clear when she says "we can be pioneers in research and aquaculture development, and I want to be at the forefront of this".
The team shared innovations they're working on including one that manages fish health in storms by submersing the feeding system, while creating an air-chamber underwater to allow the fish to 'breath'. Such a Marlborough-relevant and nationally-important business team in to excite the young audience about a future in the region and on the water.
Kent Winstanley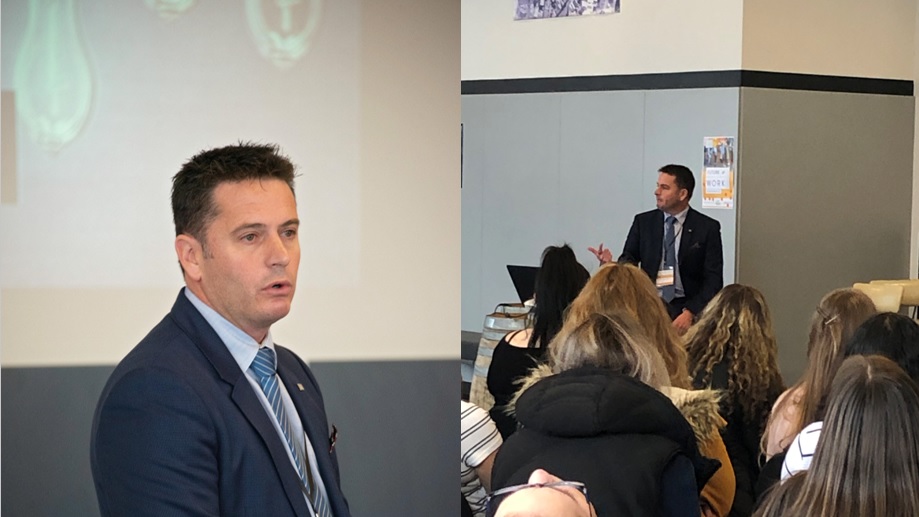 Kent Winstanley provided the Future of Work Conference audience with a great view of the world of commerce and career paths that lead into it. Born and bred in Marlborough, Kent was able to connect well with the students and describe his own pathway into his current role.
Kent also shared what's important to him in the recruitment process, noting that he has been known to leave an applicant in the reception a little longer, just to find out later how they engaged with the receptionist, cleaner or courier! Soft skills, respect and how you engage are high on his list of valued attributes in new recruits. A successful local businessman with an interesting career story to share and inspire.
---
This Future of Work Conference 2019 was a partnership between the Marlborough District Council and the Graeme Dingle Foundation Marlborough and was free for all Marlborough Year 12 and Year 13 students. It was made possible by the support of the following amazing organisations: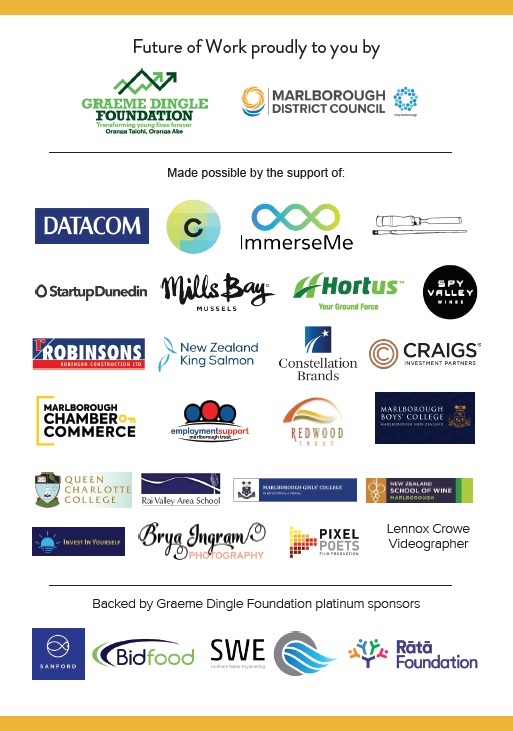 About the author: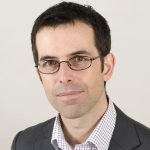 Simon has spent a large part of the last 15 years in software development leadership roles recruiting and growing new entrants to the ICT industry. It's been a challenge and passion as he's faced the growing ICT labour market challenge, the changing ways of working, and ever-increasing customer expectations. These factors require a new way of thinking about and valuing people's skills and traits in the workplace. His long-term involvement in the in-school programme called TechHub, which encourages students of varying experiences into Digital Technology, won him the 'New Zealand IT Professional of the Year' award in 2018. Not a bad achievement for a Balclutha boy.
You can read more insights from Simon – or connect with him – via his LinkedIn profile here.