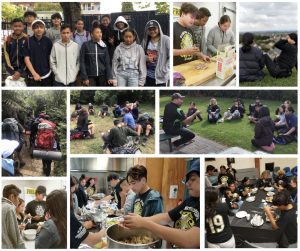 Thank you for showing me that there is more to the world, for bringing me out of my shell and making me realise that I am more!" – Louisa Moses, James Cook High School
 2 hoods
2 schools
11 students
1 connection
Connection: building a relationship of affiliation
 To be connected is a human need stemming right back to the beginning of time. We have an urge to connect, whether to families, friends, teams or communities. If we cannot find a connection where we should, we will find it where we should not.
During the month of March, we brought together 11 students from two different worlds and gave them a platform to connect – to each other, to our programme, to our facilitators and to our long-lasting Project K whanau.
As all whanau's, our young people took their time to find where they fit into the cohort and into the programme. Once they did, our Tangaroa College and James Cook High achieved things together they never thought they would be able to do. They built bonds strengthened through their hardships as individuals and as a whanau, used their humour to keep them positive and upbeat as well as using singing to keep everyone motivated. They connected with the land, their cultures and most importantly their values.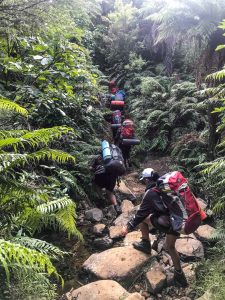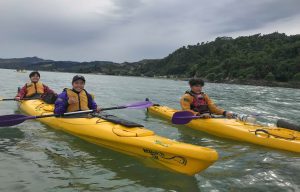 Through tramping, hiking, running, biking, kayaking, swimming and pure perseverance, these young people pushed themselves and their facilitators complete their Wilderness Adventure and be reunited with their whanau's after 17 days away – what a beautiful reunion that was! Lives are changing, confidence is building, and self-belief is deepening. Through Project K, we give our young people are way to connect where they should, so they can lead their lives knowing there is always somewhere where they belong.
The next phase of our programme is the ability to take the connections we have made and to identify the connections we have in the people around us. Whether in our families, friends, schools or communities. It is about finding how we can give back to our people, whoever they may be.
Our students were able to spend their Community Challenge at a Noho Marae at the Nga Kete O Te Wananga, MIT Otara Marae.  Our cohort was able to welcome other Project K students from Glenfield College and One Tree Hill College to their community.
Starting with a traditional powhiri to welcome the cohorts, students volunteered to speak on behalf of their schools while other students were able to support them through a waiata. This was an amazing starting to two days filled with self-reflection, purpose and service. It was a time to be grateful for what we have, to inspire them to find their why, identify their strengths, empower their whanau in finding the strengths in them and together give back to those that matter most.
The two days ended in a presentation of students presenting their pepeha's to their families, teachers and community members. They were able to present how they saw themselves and what was important to them. Some students were able to support others that were a little nervous, we were able to witness the strengths that these young people had recently discovered they had. Students also presented short videos expressing their thoughts on some of the issues we face in society today and inspired people to strive to be better.
The Community Challenge was all about people and ending the two days, the room was filled with love, laughter, good food and lifted spirits as these young people stepped up and made this part of the programme theirs.
O le ala I le pule o le tautua – the pathway to leadership is through service.
Where are we now?
Students have now started their mentoring phase, and we looking forward to sharing with you their stories over the coming months.