Image: Students in Project K Community Scholarship Wilderness Journey in April 2021 at Hillary Outdoors Aotea, Great Barrier Island. Photograph by Andy Thompson Photography NZ.
Leading Outdoor Education Facilitators Partner to inspire young people
Graeme Dingle Foundation and Hillary Outdoors have joined forces to help rangatahi navigate positive pathways.
"People do not decide to become extraordinary. They decide to accomplish extraordinary things" – Words of the late Sir Edmund Hillary which continue to ring true at the heart of two organisations who are working together to develop this mindset in Rangatahi through their mahi.
Graeme Dingle Foundation and Hillary Outdoors have walked many paths alongside one another for over 40 years, and now they've partnered to deliver Graeme Dingle Foundation's flagship programme, Project K, to 14-year-old rangatahi across the greater Auckland and Bay of Plenty regions.
Graeme Dingle Foundation's 'Project K' enables year 10 students to experience a wilderness adventure for up to three weeks and be paired with a trained adult for continued one on one mentoring and guidance across an extended period. Many participants see long term achievements following their Project K Journey and remain close with their mentors throughout life.
"Even after Project K has run its course, the people I have met and the lessons I have learnt along the way will be with me always. This journey is truly life changing, something I wish all children had the opportunity to participate in." says Teina Anderson, a Project K Graduate and Excellence Award winner.
"In Project K I learnt how to overcome obstacles by how much effort you are willing to put in even under the most stressful of circumstances. Obstacles I realised are a part of everyday life. The Project K programme has also paired me with a wonderful mentor and friend. He has shown me a different side to life and what it really means to be a part of our community."
Founded in 1972 by Sir Graeme Dingle (26) with Sir Edmund Hillary (53) as patron, Hillary Outdoors (formally OPC) has been delivering outdoor programmes to school age students for nearly 50 years. Hillary Outdoors has over 8,000 student visits annually, with 40,000 outdoor education days per year.
"At Hillary Outdoors people are empowered to do extraordinary things, we help our students achieve growth through adventure, and connection through participation. We strive to be the most outstanding outdoor educator in New Zealand by nurturing cultural interaction with place and community at each of our centres.
Hillary Outdoors has thoroughly enjoyed building our relationship with Founder and Patron, Graeme Dingle, and the Graeme Dingle Foundation by operating the Wilderness Journey programme as part of the Project K experience, for a diverse cross section of Aotearoa's youth. Project K offers opportunities to both enhance and improve the lives of our rangatahi and as such, furthering the boundaries of our programming has been such a natural fit.
We have loved working together to increase the participation of tangata whenua and other underrepresented youth in the outdoors at our Outdoor Education Centre on Aotea, Great Barrier Island and look forward to furthering our relationship." Says Hillary Campbell, Chief Executive at Hillary Outdoors.
Both organisations know and have seen the power of this partnership and are excited to journey into the future, supporting hundreds more of the Rangatahi in the greater Auckland region.
Graeme Dingle Foundation CEO Jenny Stiles says "The opportunity to collaborate with Hillary Outdoors only strengthens our delivery to young people. With the two organisations in alignment, we know that we can achieve incredible things and help thousands more young people overcome any of life's obstacles."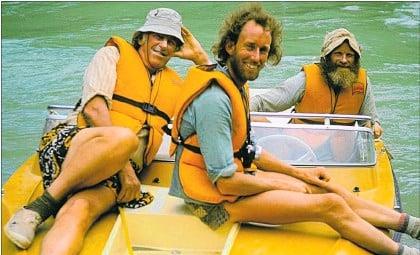 From left: Sir Edmund Hillary, Sir Graeme Dingle and Jim Wilson onboard a jet boat circa 1977
Released by the Graeme Dingle Foundation.
For more information, please contact:
Georgie Davies – georgie.davies@dinglefoundation.org.nz | 021 229 0722
Hayley Gillespie – Hayley.gillespie@dinglefoundation.org.nz | 027 489 0925
About Hillary Outdoors:
Hillary Outdoors has been delivering outstanding outdoor education and training in Aotearoa New Zealand since 1972.
Our schools programme has a place in the hearts of generations of New Zealanders. Our tertiary programme provides the outdoor learning and adventure tourism sector with exceptional instructors and guides. Our corporate training and development courses deliver inspirational leadership training to some of the country's most successful businesses and organisations.
Our goal is to sow the seeds of change and growth in everyone we work with, through outdoor adventures. We want to be part of a vibrant and sustainable future for Aotearoa New Zealand.
"People do not decide to become extraordinary. They decide to accomplish extraordinary things."
– Sir Edmund Hillary