We are delighted to announce the launch of the Graeme Dingle Foundation Project K Community Scholarship!
In response to the changing world around us, we at the Graeme Dingle Foundation have been working on a number of exciting initiatives to better support our Kiwi tamariki and rangatahi through this period of uncertainty. With this in mind, we are delighted to announce the launch of Project K Community Scholarship!
An intense and highly transformative mentoring programme for Year 10 students, Project K has traditionally been run in collaboration with specific schools across Auckland. We will continue to operate this incredibly successful model, however we regularly receive referrals and enquiries for students from the wider community who might also benefit from the programme. Launching early this year, Project K Community Scholarship now affords us the ability to accept a number of referrals from the community and other youth organisations!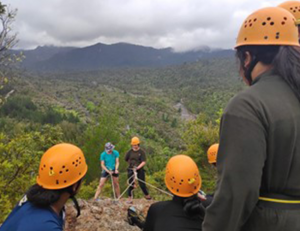 This means we can now support at-risk youth who might not otherwise have had the opportunity to participate in Project K. 
The first cohort of 12 Community Scholarship students will start their journey in the coming weeks, along with students from One Tree Hill, Waitakere and Tangaroa Colleges, and Papakura High School. For the first time, the Wilderness Adventure component of the programme will be held on Great Barrier Island; a fantastic opportunity for our students!