A year ago life was spiraling out of control for Jaleel Aratuara-Collins, a 15yr old 2020 Project K student.
"Last year I was an idiot, doing things I shouldn't be doing. I had little or no respect for anyone., making stupid decisions, physically hurting myself because I was trying to deal with things I was struggling with. I lost two very special people to me to suicide and because I hadn't dealt with it, I was basically lost and scrapping by". Jaleel shared her experience at the Graeme Dingle Foundation Canterbury Graduation and Awards Ceremony at the University of Canterbury in December 2020.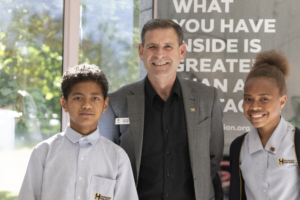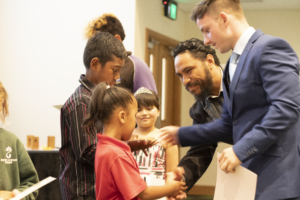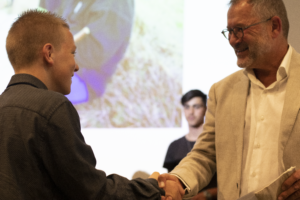 Project K involves year 10 students from Hornby High School who completed a challenging 21 day wilderness expedition and year long self discovery programme in 2020. Their achievements were recognised at the event, along with the contributions made by their volunteer adult mentors.
The Awards ceremony also recognised 43 students from Linwood College and Hornby High School completing the Stars Programme. Stars involves Year 12 & 13 students who are trained to run mentoring classes once a week for Year 9 students. Topics covered include bullying, social media, positive relationships and respect for each other, while also working on a community project together as part of the year long programme. Prizes were given to the most Outstanding Peer Mentor from each school.
One student shared "….this experience has changed my career choice with the decision to now register for a social work degree in 2021 where I can continue to develop and apply the skills I have learnt this year".
The Kiwi Can programme was also celebrated with 38 primary schools students from across Canterbury receiving awards for being Kiwi Can Champions. With just over 3000 students per year from 19 schools across Christchurch and South Canterbury, the programme focusses on development of the 5 C's – character, caring & compassion, confidence, competence, connections which lead to greater levels of contribution. The strength of the programme is the consistency of delivery every week to every child in the school over multiple years with a developing curriculum.
"Often these core life values are overlooked at school prize givings, so this was an excellent chance to remember the importance of these values and the contribution they make to school behaviours and in the community. The chosen winners had shown valuable contributions and initiative and were role models to their classmates" said Chris Davis, General Manager.
Not only did the ceremony celebrate our tamariki and rangatahi, it also recognized the brave and generous supporters who participated in one the foundation's major fundraisers, Drop for Youth. 12 jumpers raised over $1000 each to sky dive to raise money for our programmes, and to shine a light on the needs of children and young people in Canterbury.
The Graeme Dingle Foundation Canterbury works in lower decile schools where the demand for its services has ballooned, despite taking on 7 new schools in 2020. Christchurch events have impacted on our kids, with Covid impacts creating additional financial & social pressures & challenges for many families in 2020. The graduation and awards ceremony was a wonderful time for the students and their whanau to reflect on what they had achieved in a challenging year, and celebrate the positive impact these programmes have on our tamariki and the community.
Feature Photo: Linwood College Stars Peer Mentors with their certificates, Divashaal Prasad, Tanisha Reddy, Dipal Narayan and Mohammed Shah.