At Graeme Dingle Foundation we have a research team that's dedicated to evaluating and developing programme logic models, and measuring outcomes. This work provides an important evidence base which helps define and refine ourprogrammes, so we're always up to date, responsive and relevant.
To make sure our evaluation design and practices remain credible (and to provide opportunities for external evaluation projects), we work alongside the University of Auckland and Massey University. We are also open to proposals for independent research projects from Masters and PhD students or other research agencies.
For more information on our research please refer below:
Annual Projects Summary
How our Programmes Impact our Young People
Our most recent publications are:
The Positive Youth Development Characteristics of Cross-Age Peer Mentors: Who Commits to Serving Younger Peers
If you have any questions or would like access to any research, contact Julie Moore
Research and Evaluation Summary
School-based mentoring
Research and Evaluation Summary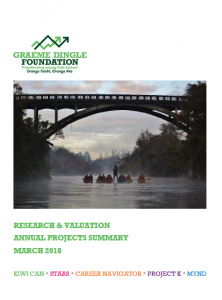 This Research and Evaluation projects update report (to November 2014) provides details of recent research on our programmes. The report summaries recently published research articles and research project reports (the last 3 years), and details research projects that are currently underway.
Read
School-based mentoring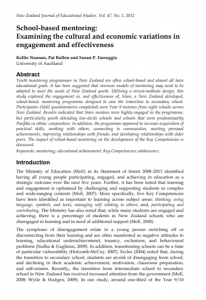 School-based mentoring: Examining the cultural and economic variations in engagement and effectiveness. Written by Kellie Noonan, Pat Bullen, Susan Farruggia for the University of Auckland, May 2012.
This paper examines the need for overseas mentoring models to be adapted to meet the needs of New Zealand youth. 
Read