Tackling troubling statistics
Here in Aotearoa statistics show that tamariki need our help. Across the country, we're working towards tackling these statistics and helping Kiwi kids overcome their obstacles. We've reached over 270,000 young people so far and with your help we can reach even more.
At Graeme Dingle Foundation we have a research team that's dedicated to evaluating and developing programme logic models, and measuring outcomes. This work provides an important evidence base which helps define and refine our programmes, so we're always up to date, responsive and relevant.
To make sure our evaluation design and practices remain credible (and to provide opportunities for external evaluation projects), we work alongside the University of Auckland and Massey University. We are also open to proposals for independent research projects from Masters and PhD students or other research agencies.
For more information on our research please refer below:
Annual Projects Summary
How our Programmes Impact our Young People
If you have any questions or would like access to any research, contact Julie Moore
Research Symposium 2019
Research and Evaluation Summary
School-based mentoring
Can Resilience be Built at School?
Research Symposium 2019
'Exploring the wellbeing of young people in Aotearoa'.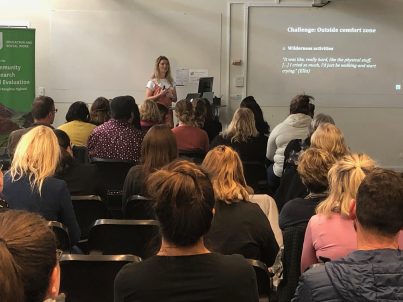 This years symposium was a resounding success and attracted many guests from around the region and Aotearoa.
Presenters covered a diverse range of projects that explored what makes a good life for our young people, including  young people's views on well being and a snapshot of social indicators for the youth of New Zealand.  We also looked at how young people can get the most from their participation in youth development programmes and explored  aspects of  everyday life, such as social media, that can have an impact on youth health and well-being.
The Symposium aims to bring together researchers who have been researching our programmes and other aspects of youth development, so that further opportunities can be explored and developed for the future.
View the presentations here:
What makes a good life? Children and young people's views on wellbeing: Office of the Children's Commissioner
Impressions from the wild: A thematic analysis of adolescents' experience on Project K's Wilderness Adventure: Madi Jones
Ngā Tikanga Whānaketanga – He Arotake Tuhinga: Dr Kelsey Deane & Zara Maslin
Numbers and the real stories they tell – Ronji Tanielu
New Zealand Youth & Social Media –Tamer Mohamed & Jade Phillips
Research and Evaluation Summary
This Research and Evaluation Summary provides details of recent research on our programmes. The report summarises recently published research articles, project reports and details research projects that are currently underway.
Download Report
School-based mentoring
School-based mentoring: Examining the cultural and economic variations in engagement and effectiveness. Written by Kellie Noonan, Pat Bullen, Susan Farruggia for the University of Auckland, May 2012.
This paper examines the need for overseas mentoring models to be adapted to meet the needs of New Zealand youth.
Read Report
Can Resilience be Built at School?
The Education Review Office (ERO) has released an interesting article about the link between resilience and doing well at school. It has been found that children who show higher resilience also do better academically. Therefore the importance of building resilience in our tamariki is high and the work we do in our programmes is imperative in improving the academic success of our students. "In practical terms, schools can help children succeed by giving them a variety of learning strategies to apply if they are having difficulty".
This article confirms the importance of having programmes like Kiwi can in schools because it gives tamariki the tools they need to overcome different obstacles in the classroom. Kiwi Can classrooms are a safe environment where leaders teach interpersonal skills that help students to build caring, respectful relationships, and values that help to build student character. During Kiwi Can lessons the leaders' use of positive language and positive reinforcement, and student experiences of success encourage full participation, which helps to increase student competence, resilience and  confidence.
Read more