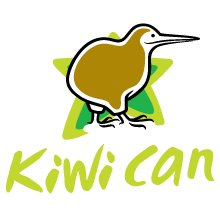 What is Kiwi Can all about?
Respect. Resilience. Positive relationships. Integrity. At Graeme Dingle Foundation Marlborough, they're more than just words, they're life-changing lessons.
Every week in Kiwi Can we work directly with over 2,500 of Marlborough's young people, across 16 local schools.
Kiwi Can is the first step of a journey that takes young people through Graeme Dingle Foundation programmes at different stages in their schooling. It sets a foundation of values and life skills that the students take with them through school and into later life.
Kiwi Can is an energy-packed primary school programme, delivered weekly in schools, aimed at children aged 5-12 years.
Kiwi Can teaches life skills & values to primary-aged children in an interactive, fun & engaging way. Our Kiwi Can leaders are positive role-models who bring to life & reinforce important skills that have lifelong benefits. Kiwi Can builds self-confidence & leadership, reduces bullying & reinforces positive behaviour in our young people.
There are two key components to the Kiwi Can programme:
one class lesson per week – every week for the whole year
Today's fast pace of technological change impacts every facet of our lives. Our tamariki need to learn skills and strategies to develop into resilient people who can cope and thrive amongst this ongoing disruption. They need to learn how to work together, understand other perspectives, collaborate for success and bounce back from setbacks. Kiwi Can supports development of these key skills in our young people, so they're able to overcome the challenges, big or small, they'll inevitably face in life. Every child in a Kiwi Can school takes part in a Kiwi Can lesson, every week of every year for their primary school lives.
one 'Community Project' per school per year.
Our community projects are encouraging a new era of community-minded young people and instilling a culture of volunteering in Marlborough. Kiwi Can 'Community Projects' engage young people at an early age to do something for the good of their community and experience the satisfaction and reward of contributing. Over the years in Marlborough we've planted numerous trees and plants, painted large scale murals, made puppet theatres, connected with kindy kids, cleaned up beaches and estuaries, collected cans for foodbanks, performed concerts for seniors in rest homes and much much more!



What are people saying about Kiwi Can in Marlborough?
"Kiwi Can's values-based education programme is especially important during these unprecedented times. The message of resilience, positive relationships and respect are more important than ever for our learners" (Aaron Vercoe, Principal, Redwoodtown School)
"Kiwi Can is the single best

investment we've made at Renwick School" (Simon Heath, Principal, Renwick School)
"I have learnt things from Kiwi

Can that will stay with me for life. They are very important things that I think everyone needs to learn"

(

Ashelyn,

Kiwi Can Student,

Marlborough)
"Kiwi Can teaches us about important things like positive relationships, resilience, integrity and respect. For example, this term we are learning all about integrity. Integrity means doing the right thing even when no one is

watching.

We learn about these things through play and lots of fun activities"

(

Olivia, Kiwi Can Student, Marlborough)
"I myself​ have learned so much from the kids through Kiwi Can and we also apply it at home (encourage and support them) – and it sure does help me too. They both come across challenges, so we talk about

'resilience' & that changes everything because they know what it's about.

Not to mention all the other great stuff Kiwi Can is doing. I was blown away when

my daughter (then 5) told me what the word 'integrity' meant. Keep up the great work to you all. It sure makes a big difference to every school involved"

(Kiwi Can Parent, Marlborough)
"What an amazing resource this is for our community. Here's a solution that is absolutely [the ambulance] at top of the cliff. It's building those key messages for our tamariki, because we know for many of them they're not getting this at home…How do we get this happening in 100% of our

schools?!" (

Mike Henderson,

Chair, Marlborough Violence Intervention Project)
Our Kiwi Can Schools in Marlborough

Kiwi Can was established in the Marlborough region in 2014 & now sees nearly 60% of our primary-aged students participating in weekly values and life skills classes. We are delighted to work with children from:















Did you know? To carry out our work, such as our Kiwi Can programme, Graeme Dingle Foundation Marlborough relies almost exclusively on local business and community support, as we are almost totally locally funded.
Kiwi Can in Marlborough
Kiwi Can Marlborough
Hear what Kiwi Can Leaders, teachers, whānau and kids have to say about Kiwi Can in Marlborough...
Watch it now